Rajana Siva Dhana Lakshmi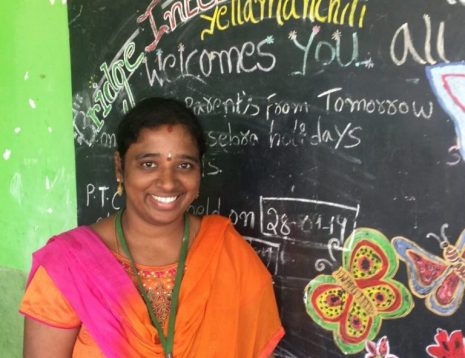 Meet Rajana Siva Dhana Lakshmi, a bubbly teacher who thrives on her pupils becoming more confident. She teaches Upper Kindergarten at Bridge, Yellamanchili where she's been for four years now.
At Bridge training, Lakshmi learnt a whole host of things that she had never heard of before. "At training, I learnt teaching techniques such as Character Boards and celebrating each and every child. This helps them to become motivated," she says.
In order to help pupils become better focused, Lakshmi has a wide array of techniques to improve pupil engagement. This includes singing songs as a class together and playing interactive games.
In her spare time, Lakshmi likes to listen to music. She says: "I believe that it helps me to relax. Listening to music also helps me to improve my vocabulary, so I can pass this onto my pupils!"