Jainab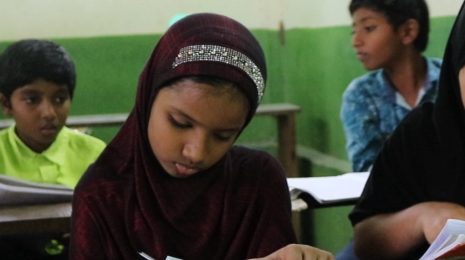 Meet Jainab, an inquisitive pupil that enjoys learning new things at school every day!
Jainab studies at Bridge, Telaprolu where she now feels settled in. Due to being very good at problem-solving, Jainab says her favorite subject at school is maths. "Everyday I like to come to school to learn about maths. The way that my teachers teach me makes it very easy to understand the class content. I always get good marks!" she exclaims.
One big change in her learning outcomes is that Jainab can now add, subtract and multiply a lot more confidently than before she joined Bridge. She says: "Beforehand, I would make a few mistakes. However, I am making a lot fewer mistakes now."
Jainab has made lots of friends at Bridge, Telaprolu. During break time at school, she likes to play lots of games with her new friends. In her spare time, Jainab likes to read stories: "I have a very creative imagination. Reading stories helps me to imagine the whole universe!" she says.
One day, Jainab wants to become a teacher. She knows just how hardworking her teachers are, and that they support all of their pupils to the best of their ability. She says: "By being a teacher, I want to help all children in my village."