Gollavilli Pavani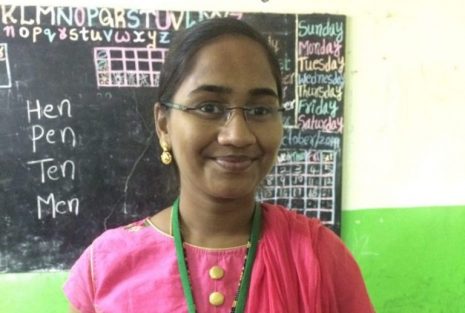 Meet Gollavilli Pavani, an enthusiastic class teacher that prides herself on improving all of her pupils' academic performance.
She teaches Lower Kindergarten (LKG) at Bridge, Yellamanchili, where she has taught for three years. At first, it may have been difficult, but now Gollavilli is very much used to being at her school.
In her spare time, she enjoys being around her children. She sees it as very important to pass on the knowledge that she has gained from the teaching profession to her children so that they have the best possible chances in life.
Teaching is a profession that Gollavilli has always wanted to enter. "I have always loved teaching with all my heart. I could see how hard-working my teachers were at school, so I wanted to help others too," she explains.
Gollavilli has admitted to us that, before receiving teacher training, she was quite anxious a teacher. She says: "I used to find teaching quite scary. Standing up in front of a class of pupils was not easy for me. Due to support I get, I now receive constructive feedback on how to improve, which helps me a lot. I'm much more confident now."