Glory Shanthi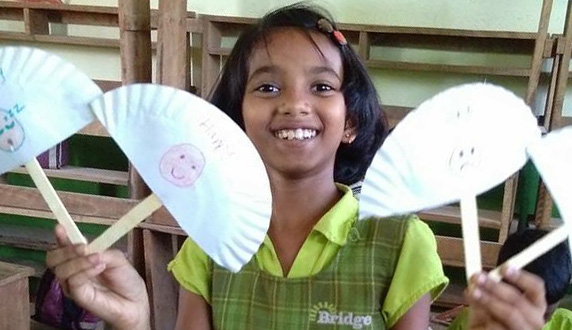 Glory Shanthi is a Standard Four pupil, who joined Bridge, Bhimadole in 2016. She had been studying at a government school when her father started to hear about a new school that had opened locally. Initially, her father only enrolled her younger sister at Bridge but after Glory visited, she asked if she could join too.
Her achievements have grown and grown since she started at Bridge, becoming one of the star pupils at her academy. An avid singer, Glory recently she won first prize for a district level singing competition! This then qualified her to compete in the State-level competition.
Glory is now fluent in English—her friends like to practise speaking English together when they aren't in school. Glory even took it upon herself to give some English lessons to some of the younger children in her community!
I feel safe and happy at my school.
Glory says that she used to be very scared to talk to new people, but since she joined Bridge, she's become much more confident.